The role of mechanical interactions in generating collective motion
(part of OTKA 72368 )
Groups of fish, birds, bacteria, and other moving creatures often show organized patterns, which are generated by simple interactions of individuals. The design of similar artificial systems is also a fast developing area of robotics. My goal is to understand, how collisions, contact, and collision avoidance strategies contribute to collective motion, and to learn about the propagation of information about motion preferences via mechanical interactions.
Collaborators: Research group of Tamás Vicsek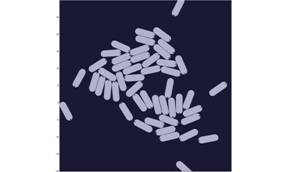 Simulation of self-propelled rigid objects subject
to attraction, and hard, inelastic collisions.
Click to plot to view video (9 MB, H.264 compression)